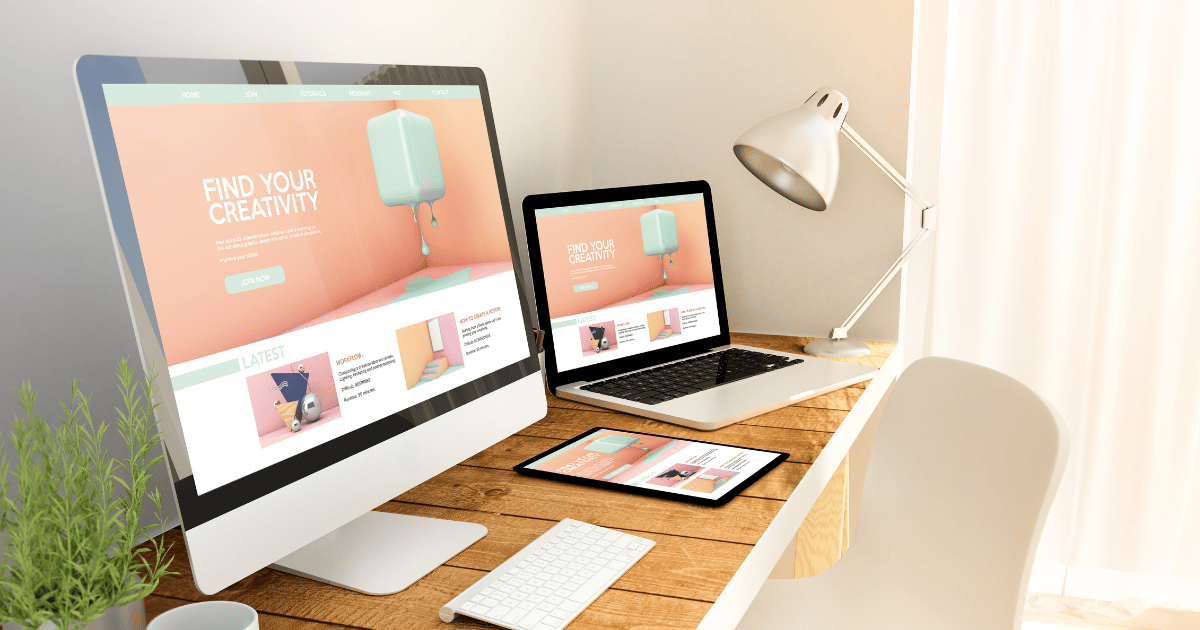 Why a Website Is Important for Your Business
Living in the 21st century, creating a website for your business doesn't take a second thought. Why is a website important for your business? For starters, it helps add credibility and gives new clients an idea of what you're all about. While old-school marketing entailed brochures and a lot of direct mailing, with various platforms and demographics available online, not making use of a website means you are missing out on a huge potential customer base.
Although it may seem like a no-brainer, given the value it adds to online sales, why would it be a requirement for niche and small-town businesses?
Websites can be expensive and require constant maintenance, and even regular content to drive traffic. So, although it adds value, for many entrepreneurs, and small businesses it may seem like a luxury.
To help make things clearer for you, we'll go over everything you need to understand in terms of why a website is important regardless of industry and business model. Besides this, we'll also highlight issues and aspects that you'll need to pay attention to while creating your own website.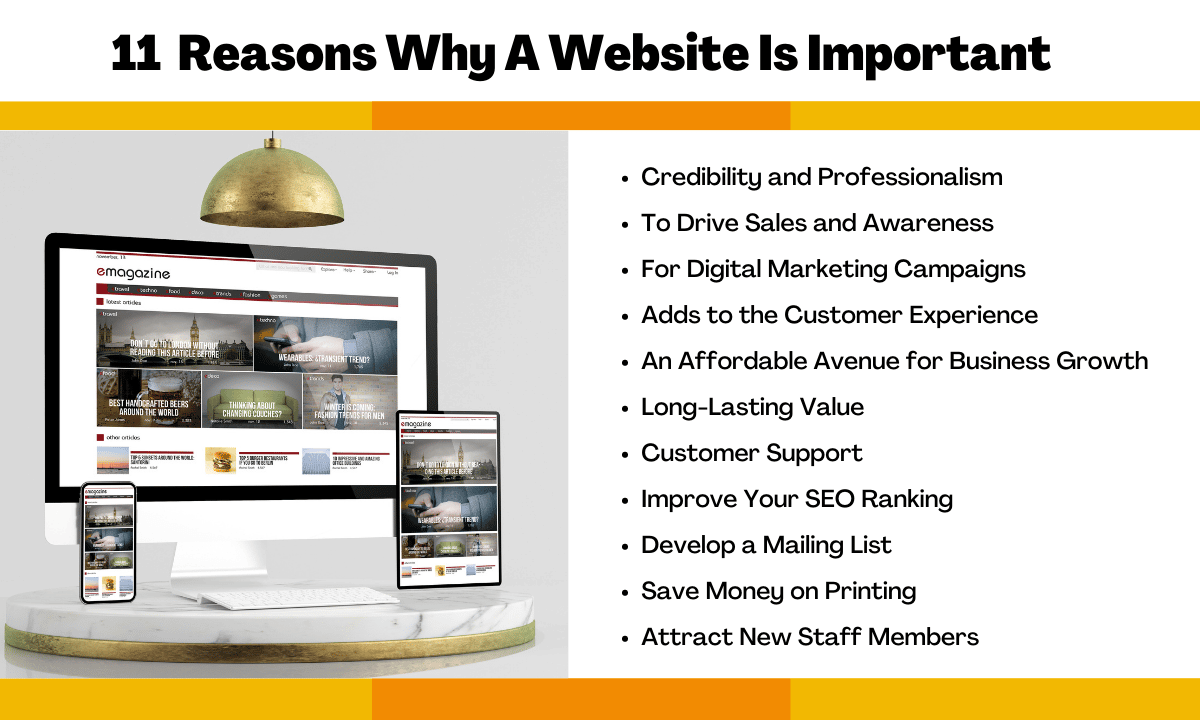 1.  Credibility and Professionalism
When it comes to adding credibility and professionalism to your business, creating a website for your business is a requirement.
Why a Website Is Important? While there was a time when not all businesses required websites, for registration purposes, branding, and acquiring new customers, websites are the best place to start.

Features with additional information that includes website navigation, previous projects, products, and services, can help new and existing customers understand your business in a short span of time. Besides this, promoting your business or products without them having a website can lead to potential customers questioning your credibility.
2. To Drive Sales and Awareness
Digital marketing is a force to be reckoned with in the current marketing environment. While there are several different types of digital marketing out there, websites help you get started. Why? Essentially, you can use various different channels to direct the most viable prospects to your site.

So, regardless if you're in the service industry, or are just trying to improve sales, websites are the perfect place to start. Also, if you're looking to gain awareness for your restaurant for local businesses or brands, making use of local SEO can be hugely beneficial.

That said, your customer behavior depends significantly on the user interface of your site. For this, we'd strongly recommend you find a digital marketing agency that specializes in website design. Also optimizing your on-page SEO and content can be beneficial. Driving sales and awareness is just one more reason why a website is important for your business.
3.  To Commence Effective Digital Marketing Campaigns
When it comes to starting effective digital marketing campaigns, websites are the first place to start. When garnering interest for your product through various means, like paid keywords, ads, and social media, having a call to action that directs consumers to your website is essential.

Websites are the first step in having a digital presence. Besides this, for consumers curious about your business it's important that you make use of SEO and SEM for brand visibility. Another reason why a website is important for your business? Well, to carry out digital marketing campaigns it requires you have a website for customers to visit.
4.  Adds to the Customer Experience
When it comes to helping customers become aware of new products and offers available, websites are a requirement. In developing your customer experience, regardless of whether it's for them to visit your store or make an appointment, websites have significant value to add.
In the case of restaurants and cafes, adding images of your interior and its ambiance can help convince prospects. Besides this, through your website, you can add images of food, and even a menu. 

For regular retail businesses, on the other hand, knowing your store's location, the products you offer, and your contact information is yet another reason why a website is important for your business.

5.  An Affordable Avenue for Business Growth 
While most digital marketing avenues can be expensive over time, creating a website and content for it can be pretty affordable. Business growth can be challenging, but websites help reassure customers of your credibility and even improve your offline conversions.

In terms of digital marketing strategy, ranking for keywords relevant to your industry can improve your site traffic. However, this entails you have a website to update and frequently upload content to. Besides this, email marketing and social media are alternative avenues to help direct prospects to your website. Although not as effective, or as quick as PPC, creating a website is an important step for business growth.
Also read: 10 Tips To Allocate the Digital Marketing Budget For Your E-Commerce Business

6.  Long-Lasting Value
While advertisement campaigns or marketing efforts can help with conversion, websites offer business long-lasting value through visibility on search engines. By adding individual pages for your products and services, you can provide awareness to existing and potential customers.

Besides this, provided you make use of the right content and digital marketing strategy the leads and conversions through your site will only improve over time. However, it's worth mentioning that this requires you to have a proactive marketing strategy. 
For websites, only after they are built, it only requires you to renew your hosting plan and tweak content when required. If web development is not your forte, however, using digital marketing experts, or firms like Designly can be quite beneficial.

7.  Customer Support
Having customer support through your website is a crucial aspect of ensuring customer satisfaction and loyalty. One more reason why a website is important for your business? While there are several different firms that provide support for the same thing, making use of automated chatbots is one place to start.

Besides this, having a form for users to submit complaints or doubts directly to your company's email can help you manage and filter through the more urgent ones with ease. Based on your requirements, having queries and complaints cleared in 24 to 48 hours is generally quite acceptable. In traditional retail or marketing, this process can be time-consuming or require you to outsource your customer support helpline (which can be quite expensive).
8.  Improve Your SEO Ranking
When it comes to boosting your site visibility, SEO plays a crucial role. While there are several other aspects that come into play to do this, like the number of relevant blogs your website publishes, and the overall traffic for specific keywords. 
What does this do? Basically, this ensures that your site gains traffic from relevant individuals, or people interested in topics that are relevant to your services and business. While there are some drawbacks to mining to improve website traffic alone, for the most part, making an active effort to improve SEO is always beneficial. That said, using SEO to boost your visibility online is yet another reason why a website is important for your business.

Improving your On-page SEO depends both on your Off-Page and On-Page SEO optimization efforts. Due to popular media channels, dealing with On-Page SEO Optimization efforts is relatively easy and straightforward, while Off-Page SEO requires you to have a marketer with more technical expertise. For this, making use of digital marketing agencies can come in handy.
9.  Develop a Mailing List
Marketing relies heavily on the relentlessness and consistency of your follow-ups. In your marketing efforts, it may seem that you're rejected, or have successful conversion; it's likely only one touchpoint in your customer lifecycle. 
While it may seem complex for those without experience, making a mailing list is quite simple. It mainly boils down to two activities. Compiling an email database and sending out a series of emails with convincing subject headings and body copy.

Collecting emails of existing and potential customers requires you to make use of calls to action (CTAs) on landing pages, or alternatively make use of pop-ups on your high traffic pages. Besides this, collecting emails at your website's Point of Sale (POS) can help significantly with having recurring customers. Creating a mail order list is one more reason why a website is important.

10.  Save Money on Printing
Traditional retail and marketing is in many ways more expensive than digital avenues. Although digital marketing does come with its paid marketing costs, traditional forms of marketing are definitely more expensive in the long run. Through the use of digital platforms, like websites or social media, businesses can target more relevant customers based on their search history. 
For the most part, advertisements in print media or through the form of brochures are both not environmentally-friendly and lead to heavy, but ineffective marketing costs. Through platforms like Google Analytics, it becomes a lot easier to identify your target demographic, gender, and even geo-location. Why is a website important for your business? It helps you go the greener, more affordable route.
11.  Attract New Staff Members
Finding good employees is hard, especially when you don't have a name. For new, up-and-coming companies, websites can be crucial to convey trustworthiness to potential employees.
 When it comes to attracting potential employees and even customers, brand reputation and brand image are crucial. While new companies have it hard in this aspect, building a clean-cut and professional website can be quite reassuring.
Also, for referrals from existing employees sharing your company's website can help them understand your business, culture, and even brand values better. To seem approachable on online job platforms, or to be visible in job search queries on search engines having a website important for your business.

Conclusion
While it may seem an expensive investment or unrequired cost, creating a website for your business is always beneficial. 
For those having reservations given their business size, it can help you get started on Google Business as well, which can allow consumers to spot your business on Google maps based on their requirements.
These days, most inquiries are made on search engines, so having a digital presence can help your business significantly.
Frequently Asked Questions
How much does it cost to build your business website?

The cost of building your website can vary based on the features you want to include, as well as the expertise of the web designers building it.
Aspects like your domain name, hosting plan, website template, and other integrations are what ultimately determine the overall cost. So, building a website can cost individuals anywhere from $100 to even $10,000 based on its functionality and design requirements.
Why is a website important for your business?
A website helps build leads, sales, and brand awareness for businesses. Besides this, it also helps to add credibility, and professionalism to your business.
Can you build a website by yourself?
Yes! That said, there are several issues you can encounter through the process of developing your website.' In terms of functionality and features, self-made websites can be significantly lacking. To avoid this, you can opt for web design services for a sleek and engaging website.
Should small businesses get their own website?
Yes! Small businesses can benefit significantly from websites. Besides getting visibility online it can help them sell products and services to even remote customers.