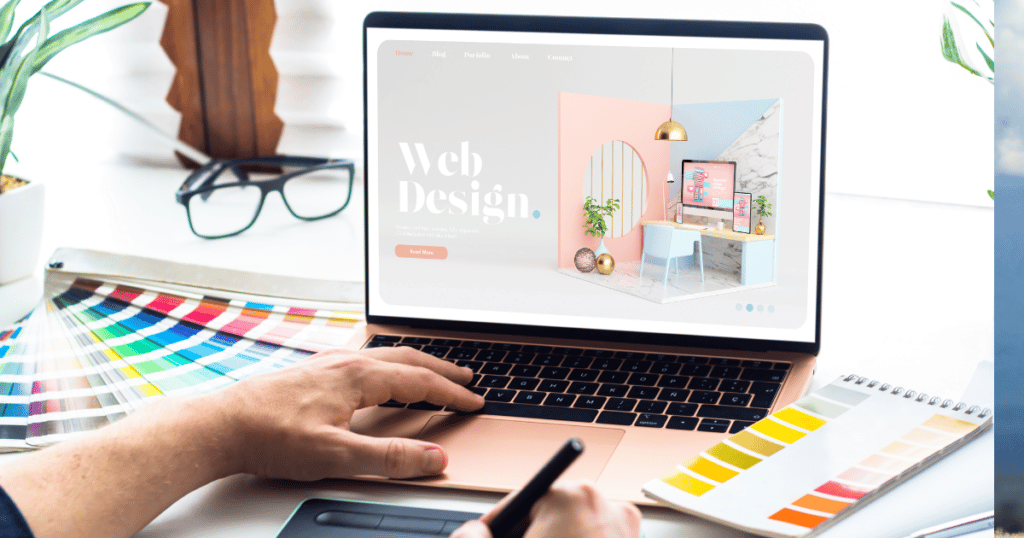 For new or existing businesses transitioning to digital, creating a website is the first step to an online presence. For some digital companies, creating a website in-house can seem like a suitable option.
Besides wasting time on a non-revenue generating activity there is also time spillage and downtime that comes in the way. Based on the multiple iterations of the website to be created the time frame of the project can end up being dragged down, costing you dearly.  
How to Outsource Website Design?
Outsourcing website design is the process by which you contact an external team, or several freelancers to source your website. This process is typically done by an in-house team however, outsourcing the web design can be more efficient and cost-effective.

Why Its Better to Outsource Website Design – 7 Reasons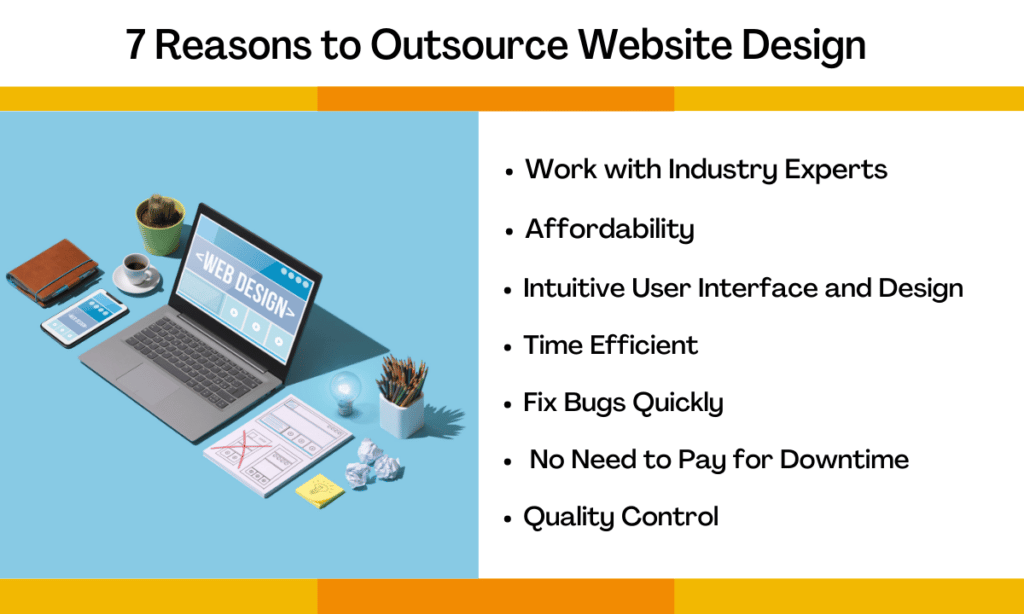 Work with Industry Experts
When you outsource website design, you get the opportunity to work with industry experts in their respective fields. While working with an in-house team can get you results that are satisfactory, working with industry experts can promote fewer iterations, which can ensure your page is developed with the best SEO practices implemented.

Whether it's to help you optimize your sales funnel on your website or strategize the keywords for ranking in google, outsourcing your website design is a great route to take.
Affordability
In terms of pricing, outsourcing your website can ensure that your website gets created within and agreed upon budget. While working with freelancers, they often give you a rough estimate on the time required and their hourly rates for completing a specific job.
Moreover, several firms and online platforms offer clients the opportunity to have a number of iterations cost-free. That said, when it comes to more complex modifications, you typically have to pay additional charges.
Intuitive User Interface and Design
Website designers are experts when it comes to the latest design trends and can help design an intuitive site layout that suits your business best. While it may seem overrated, user interface and design play a crucial role in determining how long your potential client stays on the page, and even influences their purchase decisions.
With most websites, minimalist designs that have dynamic elements and responsive interfaces are effective. While most designers can do an acceptable job with designs, working with specialized web design agencies can ensure that your customer base has an easy-to-use and accessible user experience.
Time Efficient
While there are some with experience creating websites, outsourcing website design can be lot more time efficient, and can guarantee your site is launched in a timely manner.
Also, while setting up pop-ups, or any other sales funnel on your site can be time-consuming, with the help of a developer these features can be set up quickly, and without any overtime.

Business Support – Fixing Bugs Quickly
What makes outsourcing website design so appealing? Well, the fact that web design agencies and freelancers can help support you, by maintaining and fixing site bugs quickly when needed.
While for some individuals, creating their own website can seem more affordable. Working developers and designers can help you during site crashes, and when including additional niche pages on your website.
No Need to Pay for Down Time
When hiring full-time staff, you often have downtime on weekends or during idle hours that go to waste. With freelancers and firms, not only do you reduce downtime, you reduce the inadvertent cost you would pay for it on a day-to-day basis.
With freelancers, you only pay for the cost per hour based on an hourly estimate they submit beforehand. What does this mean? Well, put simply every hour is accounted for when you outsource website design, making it more efficient and affordable.
Quality Control and Meeting Business Requirements
A lot of the time, when developing a site in-house, due to time constraints there is limited quality control, or the iterations that take place are often dragged out. When working with design firms or freelancers, however, both the stakeholders and the individuals who undertake the job make an active effort to reduce mistakes and bugs.

Besides this, when you outsource website design to experienced designers or developers, you get recommendations based on the latest design requirements in your industry and business.
Related Read: Why a Website Is Important for Your Business – 11 Reasons
Conclusion
While there is the common assumption that outsourcing web design is expensive, with the right firm or freelancers the job can be completed under budget. Besides this, when you outsource website design you create time for your resources to focus on more revenue centric business activities.
While you may have a full team of savvy digital marketers, your website is the point where any purchase or consideration of purchase takes place. With social media or blogs, fundamental knowledge on SEO and design can suffice, creating a website that is intuitive is crucial.

For those with no idea how to outsource website design, working with firms, like Designly can save you both time and money in the long run. Creating a web page your site is top notch is fundamental to your digital marketing strategy, so working with experts only makes sense.
Frequently Asked Questions
Can I create a website on my own?
Yes, however, creating your own site can be daunting if you lack experience in hosting plans, themes, and website builders. Especially, low cost DIY bulders that lack functionality expectations.
There are several sites that offer free templates, aren't those more affordable?
Many DIY website builders, only provide basic functionality compared to platforms like WordPress. They are meant to get you an online footprint, but they are not designed for widespread optimization. So you get what you pay for and that comes with limitations.
What are some things to keep in mind when you outsource website design?
When you outsource website design, it's important to ensure you have a clear understanding of your design requirements, your brand guidelines, and the overall message you want to convey through your website copy. Besides this, in the process of working on iterations you need to know what design imagery you want to include.